1. William Rice Ellington (Chief Chulio Shoeboots (Cherokee) &Clarinda Ellington ) was born October 17, 1798 in Georgia, and died October 13, 1893 in Bosque County, Texas. He married Martha A. Long Bef. 1843, daughter of Unknown and unkown. She was born February 22, 1828 in Virginia, and died October 02, 1895 in Bosque County, Texas. They are both buried in the Boggy Cemetery, German Valley, Bosque County, Texas in a fenced in area with a Perpetual Care Sign . Source for Martha "Long" is her daughter Osta T/"Austa's" death certificate. William was the son of Chief Chulio Shoeboots, Cherokee name: Tuskingo / Tahsee-key-yaw-ga and his mother was Clarinda Ellington/Allington, a capture of Indians at age 12 and saved by Shoeboot who later took her as his wife. Chief Shoeboot and Clarinda Ellingtons's story is the basis for the Novel "Daughter of Shiloh" by Ilene Shepard Smiddy.

Notes for Martha A. Long:
Great grandson Leon P. "Whitt" Whittington said he did not think Martha Long was of Indian hertiage. He said William was of Indian Hertiage.
Children names taken from 1860, 1870, and 1880 Bosque County, census. (2003, Bruce Wiland).
More names and information contributed in July 2004 by by Paula Sain.
Webpage design and research by Ray and Mary Whittington Anderson
Children of William Ellington and Martha Long are:

i. Rebecca Ellington, born 1843. Nothing else is know about Rebecca. Rebecca married (1) G. W. SCHOONOVER on 1 July 1859. Source: EARLY McLENNAN COUNTY MARRIAGES. Rebecca married (2) W. G. BEGGS whom had a son, James W. BEGGS (b abt 1866), from a previous marriage. I do not know what happened to Mr. Schoonover. Rebecca didn't know where her parents were born for the census of 1880..

Children of Rebecca Ellington and G.W. Schoonover

William. SCOONOVER born about 1868.
Edward SCOONOVER born about 1873.

ii. Abraham Ellington, born Nov. 21, 1849. and died Feb. 13, 1914. was the son of William R. Ellington and Martha Long. Abramham Buried in Boogy Cemetery and married Nancy Jane Music on 11 Feb 1869. Source: EARLY McLENNAN COUNTY MARRIAGES

Child of Abraham and Nancy Jane Music.

Jasper Filex Ellington born Feb. 18, 1886 and died Aug. 1887. Buried in Boogy Cemetery

iiiCharles R Ellington, born 1852 and died in 1906 was the son of William R. Ellington and Martha Long. Charles R Ellington married Magnolia Williams. Magnolia was born in 1857 and died in 1940. Buried in Boggy Cemetery. Source: Charles is listed as a Stock Raiser & Farmer in Brown County Texas on the 1880 Census. He sure did mess up his father's and mother's birth places really bad. He must have been in the field that day with Magnolia furnishing the information. There is no question in my mind that the birth information was in error and the Brown County Charles R Ellington was William Rice Ellington's son.

Email received about Magnolia Williams from Mark Tischler.
I stumbled on to your website in my search of William Rice Ellington. William Rice Ellington was my great, great, great, great grandfather. His son Charlie Ellington married Magnolia Williams. Their son Chauncey Jerome Ellington was my grandfather. You mention their daughter"Mattie"-my mother would speak of her as "Aunt Mattie". Magnolia William's father was William Williams ("Mukewater Bill")- he was the founder of Trickem, Texas (near Cransfill Gap). Mukewater Bill Williams was from Georgia and I believe migrated to Texas during the Civil War. Thanks for your website.

Children of Charles R. Ellington and Magnolia Williams

Martha "Mattie" E. (Ellington) born 10 Oct. 1872 and died 04 March 1967, She married John Ras Kern Gaston III who was born 10 Feb. 1870 and died 22 Feb. 1965. (Buried as Mittie E. Gaston). I do not know how Mattie Ellington fits into William R. Ellingtion's family.

Children of Mattie E. Ellington and John Ras Kern Gaston III

Viola Gaston 1/1894, TX
Nona P. Gaston, 11/1895, TX
Raymond R. Gaston 10/1897, TX
Ruby Gaston, 12/1899, TX
No graves known of for the children
Source: 7 July 1900 Bosque County, Meridian 1-PCT Series T623 Roll 1613 Sheet 16B.
Researcher:Paula Sain,



Charles W. Ellington was born in 1875 and born in Texas. CW married "R.M". No marriage license or grave found.or marriage license.

Child of Charles .W. Ellington and "R.M."

Ida Magnolia Ellington was born July 3, 1900 and died Dec. 20, 1900. Buried in Boogy Cemetery near William R. Ellington. Headstone states daughter of CW and RM Ellington.



Evy ELLINGTON, daughter, was born 1878 in Texas.

Anna Belle Ellington was born Oct. 16, 1895 and died May 30, 1896.Buried in Boggy Cemetery. Heastone states daughter of CR and Magnolia Ellington.
Chauncey Jerome Ellington (see email from Mark Tischler above).

iv. Austa Tennessee "Osta T" Ellington, born November 09, 1854 in Bell,Texas; died September 02, 1930 in Glenn Cove or Talpa, Texas. "Osta/Austa T" Ellington married John Richardson 15 Oct 1873. (Bosque County marriage records) They lived about six houses up from William R. and Martha A. Ellington. (1880 Bosque County census.)

v. Safrona Ellington, born 1857 in Texas. Nothing else is known aboutSafrona. No marriage found in the Bosque County records. No grave located. I think it's possible she married a "Richard Ford" but I could not find anything to document it. I suspect this from the reserch of the 1880 census. A Richard and Safrona Ford lived near the Ellingtons. The Safrona was the right age for Sofrona Ellington. I could not find a marriage for this Richard Ford in Boaque or McLennan Counties to disprove this..

Members of the Ford familyare buried in Boggy Cemetery near the Ellington family A N. Sophronia FORD, 1857--1936 is buried at Boggy but no Richard is listed. There were only five Rebeccas (born 1857 +/- two years) in the 1880 census search for Bosque County. This Sophronia is the only one that stood out and came close to fitting into the Ellington research. RESEARCH NEED, A marriage license to prove or disprove would be helpful.

No children listed until this issue is resolved.

vi. William Ellington, born 1858 in Texas. Nothing else is know about William . No Census found. No marriage found in the Bosque County records. No grave located. William is a good candidate for Manuel Ellington's (living with George and Mattie) father since he would have been 24 when Manuel was born. Since Manuel is having to live with a uncle and aunt this may mean William has either died or left the Bosque county area. NEEDS RESEARCH

vii. Mary E. Ellington, , born 1861 in Texas and was the daughter of William R. Ellington and Martha Long. Mary E. Ellington married C. W. Blackburn 10, Feb. 1888. Source Bosque County marriages. NEEDS RESEARCH for after 1880 census since they married in 1888.

viii. Iva Ellington, born 1863 in Texas. Iva Ellington may be listed in the Bosue County marriage records as Ivy Ellington marrying J.F. Jenkins on 10, Feb. 1881. NEEDS RESEARCH only theory. No grave

ix. George A. Ellington, born 6/1867.
According to the 20, June 1900 Census of Indian Territory, TWP 21 Range 14E Series T623 Roll: 1844 ED 22, Sheet 19B. What is now known as part of Oklahoma. I do know that some of Austa Ellington and John L. Richardson children ended up in Oklahoma as well. The Bosque county marriage records state that George married Martha Rebecca CAMFIELD (Mattie Cranfield in marriage license record) on 29 Dec. 1887 in Meridan,,Texas. Martha was born 10 Jun 1869 in Clifton,Bosque Co.,Texas. Martha Camfield died 18 Jul 1953 in Hermosa Beach,,California.

Source: Census, marriage records, and website: by David Stidham , Stidham Family Tree, as of 7-13-04. http://homepages.rootsweb.com/~stiddem/homepage/


Children of George and Mattie Cranfield/Camfield:

William Tillman ELLINGTON 15 Sep 1888 in Cranfills Gap,Bosque Co.,Texas , died 25 Sep 1944 in Redondo Beach,,California and is buried Pacific Crest C.,Redondo Beach,California. William T Ellington married Josephine BURGESS (b: 1890 in , Oklahoma) : 13 Mar 1910 in Lindsay, California.

Child of William T. Ellingt on and Josephine Burgess

Pearl Amethyst ELLINGTON b: 27 Feb 1913 in Redondo Beach,,California.
Pearl married:
(1)George WOOSLEY (b: 1 Oct 1910 in Litchfield,Grayson Co.,Kentucky).and they had one son Greg William WOOSLEY b: 8 Nov 1935 in Hermosa Beach,,California.
(2) Paul Charles REDWINE (b: 9 Jul 1919 in Lake City,,Kansas) 31 Aug 1943 in Hermosa Beach,, California. They had one child (living)



Ethel Ann ELLINGTON born 23 Feb 1897 in Oolagah,Cherokee Nation,Indian Territory. Ethel married Orville J. MEADOWS (b: 26 Oct 1896 in Moreno,,California) on 10 Jun 1921 in Fresno,,California and they had one child Jacqueline MEADOWS born on 15 Aug 1932 in Torrance,Los Angeles Co.,California. Jacqueline married Donald Warren DEWITT (b: 11 Jul 1928 in Long Beach,,California) on 17 Feb 1950 in Long Beach,Los Angeles Co.,California and they had one child. (Living)


x. Francis Ellington, born 1860. (may be nephew or grandchild)
This may be widower Francis M. Ellington listed in the Coryell County, TX 1880 Federal Census Microfilm # T9-1298 Pages 462B to 466B Dwelling 402/403. The Francis Ellington in Coryell County had a daughter "Maud D. Ellington" one year of age. No Wife listed. The Coryell County Francis M. Ellington was 26 years old in 1880. There appears to be one Ellington family in Coryell County up to 1920. In 1930 there are two Ellingtons listed in the index. Coryell County line is probably about five miles from where I was told the old Ellington Homeplace near Cranfills Gap was located. NEEDS RESEARCH only theory. Francis is probably not Manuel's father while age wise it is possible. Manuel was born two years after Francis is shown as a widower in the 1880 census. Francis is gone from William R. Ellintons household in 1880 when Francis M. Ellington is counted in Coryell Co. Fracis M. claims to of been born in Tennessee.

xi. Mary T., born 1862. (may be nieceor grandchild )
Mary T. may be Thora Ellington who married Tom Colston 11 Jan. 1892 found listed in the Bosque Co. marriages. NEEDS RESEARCH only a theory.

xii. William, born 1867. (may be nephew or grandchild)
I don't know anything about William at this time. I doubt if William is Manuel Ellingtion's father. William would only be 15 with the information logged here.

---

Other Ellington Marriages of Bosque County
It is not known if these are related to William R. Ellington
DANSHY, Anderson married ELLINGTON, Lucinda on 08 May 1888.
ELLINGSON, Ingeborg Elisabe married DAHL, Peder on 14 Mar 1895.
ELLINGTON, M E Miss married LINDSEY, Allen 18 Dec 1888,Allen is probably the son of John Lindsey and Amanda, source 1880 census page 396B E.D. 10, Bosque County Texas.
ELLINGTON, Mattie married GASTON, Ros on 05 Jan 1893.

---
This information was found in the 1880 Bosque County Census. It appears about six houses from John L. and Austa Richardson's family in Bosque County in 1880.
1880 Census Census Place E.D. 10, Bosque, Texas
Household:
Name Relation Marital Status Gender Race Age Birthplace Occupation Father's Birthplace Mother's Birthplace

William ELLINGTON Self M Male W 81 GA Farmer GA VA
Martha ELLINGTON Wife M Female W 50 VA Keeping House VA VA
William ELLINGTON Son S Male W 21 TX Farming GA VA
Mary ELLINGTON Dau S Female W 19 TX At Home GA VA
Iva ELLINGTON Dau S Female W 17 TX At Home GA VA
George ELLINGTON Son S Male W 14 TX Farming GA VA

Source Information: Census Place E.D. 10, Bosque, Texas
Family History Library Film 1255291
NA Film Number T9-1291
Page Number 385C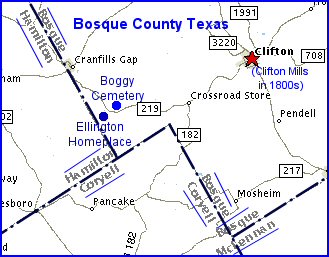 ---
Census Index based on Head of Household or Individuals,
not all members fo the family are listed below.
There are two spellings, ELLINGSON and ELLINGTON, it is not known if this is a
census spelling error or two different families or both two families with someof the
Ellington's miss-spelled to Ellingson.
1880 Census Bosque County Texas - Ellington

ELLINGSON Jacob 394B 224 10 No T in Name
ELLINGTON William 385A 52 10
ELLINGTON William 385A 52 10

1900 Census Bosque County Texas - Ellington

ELLINGSON Bernhard 311A 212 11 No T
ELLINGTON Charlie 171B 263 2

1910 Census Bosque County Texas - Ellington

ELLINGSON Charles E. 199A 63 17 no T in name
ELLINGSON Edgar A. 197B 36 17 no T in name
ELLINGTON John H. 184B 34 16
ELLINGTON Magnolia 209B 55 18
ELLINGTON Rouse 184B 34 16

1920 Census Bosque County Texas - Ellington

ELLIINGTON Maggie 219B 52 49
ELLINGSON Charlie 223B 163 49 No T
ELLINGSON Dannel 237B 218 50 No T
ELLINGSON Richard 222B 144 49 No T
ELLINGTON Allie Maye 220A 52 49

1930 Census Bosque County Texas - Ellington

ELLINGSON Chas. E. 275-A 150 18 no T
ELLINGSON Egert A. 275-B 151 18 no T
ELLINGSON Richard E. 275-B 160 18 No T
ELLINGTON Mrs. C. R. 285-A 117 19

Source: The Bosque County Collection

---
Boggy Cemetery, German Valley, Bosque County, Texas
http://www.interment.net/data/us/tx/bosque/boggy/index.htm

All Ellingtons listed in the Boggy Cemetery are:

Ellington, Abram, b. Nov 21, 1849, d. Feb 13, 1914 (William/Martha's son)
Ellington, Charles, b. 1852, d. 1906 (William/Martha's son)
Ellington, Charlie, b. Sep 24, 1906, d. Feb 10, 1985 (parent unknown)
Ellington, Erma Lee, b. Dec 31, 1886, d. Sep 9, 1970 (parent unknown)
Ellington, George Monroe, b. Apr 25, 1893, d. Sep 7, 1974 (parent unknown)
Ellington, Ida Magnolia, b. Jul 3, 1900, d. Dec 20, 1900 (William/Martha's 1G granddaughter)
Ellington, Jasper Felix, b. Feb 18, 1886, d. Aug, 1887 (William/Martha's grandson son)
Ellington, Joseph Dan, b. Feb 25, 1891, d. Jul 4, 1983, Corp Battery A 71st Artillery WWI (parent unknown)
Ellington, Magnolia, b. 1857, d. 1940 (William/Martha's daughter-in-law, maiden name unknown)
Ellington, Martha A, b. Feb 22, 1828, d. Oct 2, 1895 (Martha Long - William's wife)
Ellington, Maxine M, b. Mar 9, 1923, d. Oct 2, 1995 (parent unknown)
Ellington, William R, b. Oct 17, 1798, d. Oct 13, 1893 (William son of Shoeboot)


----------------------------------------------

Possible Research And Leads For Long Family
Austa T. Ellington death certificate claims she was born inBell County Texas in 1854 and her mother's maiden name was LONG.. Since much research I believe the county could be wrong. About 1864 is when the counties were changed up allot. The Ellingtos have a history of getting allot wrong when it comes to spelling even their own names or where their parents were born on the census forms.


------------- possible research---------------------------
Orgional Land Owners Bell County Texas.
1. W. R. Long / W.R. Long
2. JOHN JOSEPH LONG / J.J. Long (San Saba Co. Texas)


1870 cenus Bosque Co. Texas LONG FamilY House # 214
LONG, Arther (M-21)--Page 380b, Line 26, House # 214
LONG, Charles (M-22)--Page 380b, Line 25, House # 214
LONG, Eliza (F-35)--Page 380b, Line 23, House # 214
LONG, Hubbard (M-25)--Page 380b, Line 24, House # 214
LONG, William (M-63)--Page 380b, Line 21, House # 214