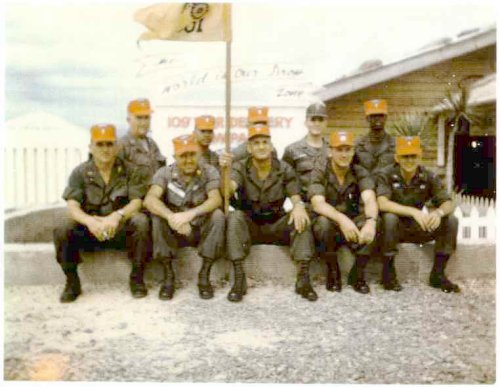 109th Officers and Warrant Officers Reading Left to Right. Front Row CWO
Joseph Devesconi, CWO Ray Ward, Maj Al Lanier 'CO', Cpt Slaugenhoupt,
Lt Riley Back Row CWO Pickett, Lt Meletiche, Lt Mc Evoy, Lt Bassan, Lt
William "Rigger" Mortis
Photo: Al Lanier
Instructions for using this site:
You will find all your selections in the "Menu Frame" on the left. When you have selected a portion to go to, you will see "Return To Vietnam Airdrop History" at the top and bottom of each menu frame.
Do not use your "Back Button" made into your browser. Use the "Return To Main Menu" selection.
The "Back Button" causes you un-necessary time back-loading Photos.
©2002 Ray Anderson