Combat Airdrop Photos
(Photo Below: Still is from ©DOD Moving Film Footage)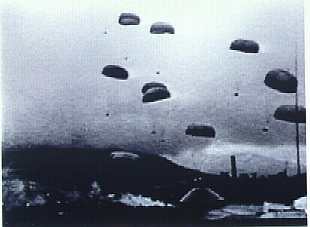 12,000 tons of supplies were airlifted to Khe Sanh. Of the 12,000 tons, 8,000 tons were delivered by parachute or extraction systems. Pictured is CDS (Container Delivery System), the most common supply method used. Often loads were dropped blindly by radar due to the heavy fog and low ceiling. CDS loads were dropped at 500 feet while often the fog ceiling was as low as 100 feet.