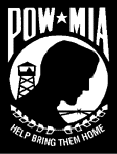 The Pow Mia Flag is for All Wars not just Vietnam.

Jeff McIntyre's father, "Edward McIntyre, was one of the 12,000 American soldiers who surrendered to Japanese forces in the Philippines on April 8, 1942. He survived the infamous Bataan death march that took 10,000 American and Filipino lives and ended up as a POW in Japan". SCJonline
- Success -
109th Qm Co(AD) Veteran, 1968 - 1969, Jeff McIntyre, delivers on his MIA/POW flag quest in Washington State.


Read Article at SCJ Online
"New flag hangs on governor's OK"

The Bill Is Now Law.
Right: Signing Of The Bill Into Law
Photo: (Jeff McIntyre)
Gov. Gary Locke signs bill, Jeff McIntyre in blue shirt and tie holding flag.