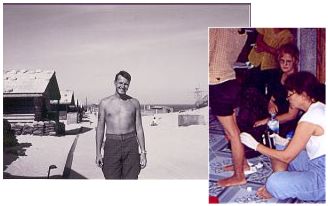 Dale's wife and daughter doing humanitarian work.
Sp5 Dale Larsen served in the 109th Quartermaster Company
(Air Delivery) in the 1969 to 1970 rotation of men.
These are a few of the photographs he returned from Vietnam with.
Dale has since return to Vietnam for humanitarian work twice.
He tired to visit the old 109th QM Company Area both times
only to be turn away and refused access.
Instructions for using this site:
You will find all your selections in the "Menu Frame" on the left. When you have selected a portion to go to, you will see "Return To Main Menu" at the top and bottom of each menu frame.
Do not use your "Back Button" made into your browser. Use the "Return To Main Menu" selection.
The "Back Button" causes you un-necessary time back-loading Photos.
©Dale Larsen 2000 All Rights Reserved