The 549th was first the 2348th Quartermaster Airborne Air Supply & Packaging Detachment during World War II; then the 8081st QM Co Air Supply in Korea; then the 549th QM Co Air Supply during US's era in Vietnam.
The 549th first association with Vietnam was in 1954. The 8081st trained the French riggers who did the airdrops at Dien Bien Phu. Dien Bien Phu is the battle in which the French surrendered in defeat. The 8081st not only trained the French riggers, but furnished a constant stream of parachutes from Japan to Vietnam by ship for the Dien Bien Phu airdrops.
During the US's era, the 549th Company, while neither assigned nor stationed in Vietnam, nevertheless had several of its men sent TDY (Temporary Duty) to Vietnam and Thailand. One platoon was attached to the 383rd QM Detachment at Bien Hoa in 1968 during the Khe Snah and Tet68 airdrops. Other riggers of the 549th were stationed in Thailand where they rigged loads for CIA missions. In May, 1972, a platoon was sent to Tan San Nhut Air Base near Saigon to perform high altitude drops for ARVN troops and American advisors during the siege at An Loc .
In 1996, the US Army Quartermaster Corps recognized the efforts of the 549th when it received the "Distinguished Unit of the Regiment" award. This is the highest award a unit can receive from the Quartermaster Corps. The 549th Quartermaster Company inactive date is unknown and the 549th remains inactive.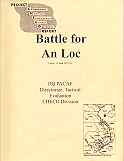 Battle For An Loc CHECO Report
Also See:
See Unit Histories: None
See 1st Log Fact Book 1968
See Suggested Reading