The 109th Quartermaster Company (Air Delivery) arrived in Vietnam in August, 1966. The company was situated at the northernmost end of Cam Ranh Bay, overlooking the 6th Convalescent Center. The 109th remained active until 31 January, 1972, at which time it was inactivated. The Air Delivery Unit of the 109th QM Co. designation never returned to the US from Vietnam. In 1983 the 109th designation was reactivated as a Quartermaster Petroleum Company.
The 109th was the only stand alone Air Delivery Company in Vietnam, and the only Air Delivery Company listed in the "Order Of The Battle Vietnam". Other air delivery units that made contributions are included in this history. Care has been taken to document the history included in these pages.
The 109th played an important role in many major events in of the Vietnam War, including resupply of the 173rd Airborne Brigade ("The Herd") combat jump in Operation Junction City in 1967; repair of the Khe Sanh Combat Base runway in September, 1967; critical emergency supply missions at Khe Sanh during the 77-day siege of 1968; emergency Tet 1968 air drops; A Shau Valley, April May, 1968; supplying 5th Special Forces, 1967 and 1968, as rebuilding Lang Vei after it was over run; rigging "Daisy Cutters" (large bombs to clear jungle areas for landing zones) which were dropped from C-130 transport aircraft; and the 1971 invasion of Laos by ARVN troops.
The 109th, 383rd, and 623rd all played a major role in the airdrops delivering over 8,000 tons of supplies by parachute and extraction systems that set a record of most tonnage ever drop into *actual combat* for a 30 day period during Khe Sanh and TET68. A record that still holds to this day.
On November 2, 1999 I received documentation which clearly documents the 109th not only rigged "necessary supplies, equipment, and mail" for inside Cambodia during the Cambodian Invasion, but also extracted captured enemy supplies out of Cambodia. The documentation also refers to "members of our unit (109th) in Cambodia" in May and June 1970. In addition to the official documentation, Dale Larsen wrote a personal note:"We were spread out among the 1st Calvary. Our job was to sling out captured supplies and move heavier equipment around using slings, Chinooks and Sky Cranes." "We also had a couple of our guys with the Special Forces unit outside of Ban Me Thuot."
In June, 1997, the US Army Quartermaster Corps recognized the efforts of the 109th when it received the "Distinguished Unit of the Regiment" award. This is the highest award a unit can receive from the Quartermaster Corps.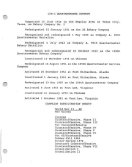 109th Lineage and Honors

Also See:
See Unit Histories: 109th, 383rd, 278th
See 1st Log Fact Book 1968
See Documentation
See Photos
See Action Photos
See Newspaper Clippings
See Suggested Reading